Mad Ladies part II - vintage clothing and hair.
Need more vintage clothing! Need more plaid! Is too inspired! Trying to make four things at once!
First up, a simple conservative dress with some pearl buttons on the "jacket" and sleeves.. Three colours. Mesh by Shannanigan (I can't help myself, loving them!), colours by CuriousB, texture from Aquilegia.
DOWNLOAD DRESS
mesh included
And then a Pookleted old Helga hair, for the stylish ladies that doesn't want to get their hair all messy when going out. Goes nicely with my
accessory bangs
(<- shameless self promotion). Mesh by Helga, Pooklet's hair textures and all natural colours, binned, familied, compressorized. Scarf texture from Aquilegia, again.
DOWNLOAD HAIR
mesh included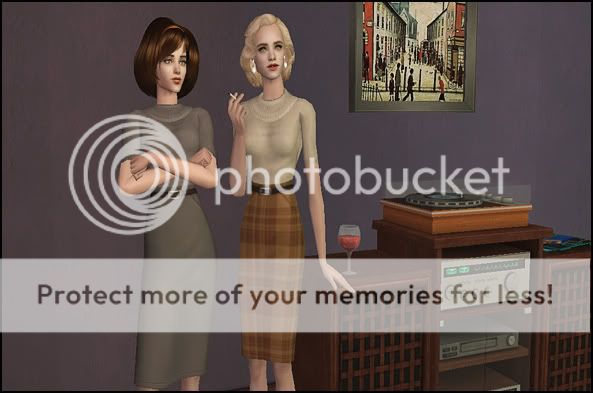 And then to the separates! A cowl neck sweater in four colours and high waisted skirts in three solid colours and three plaid colours. I made these to match each other.
Sweater mesh is by Simal, now with added fatmorph by Rosehage, some textures from Simal's original sweaters, other textures from CGtextures, colours by CuriousB. Sweater is untuckable but doesn't look that great with all untuckable pants.
Skirt mesh by Amaryll, colours by CuriousB, belt (my favourite) knicked from a Maxis outfit, plaid pattern by Slavetofashion69 at deviantART.
DOWNLOAD SWEATER - DOWNLOAD SKIRTS
meshes included
Comments {59}